TUESDAY, NOVEMBER 8th, 2011, AT 4:00 PM/ PST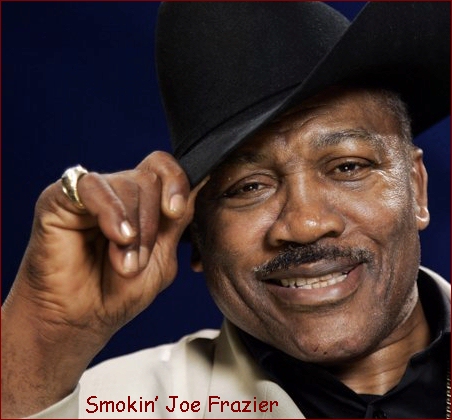 The Loss Of
"Smokin' Joe!
1944 - 2011
At the age of 67, well known boxer Smokin' Joe Frazier left us yesterday after a long battle to liver cancer. Muhammad Ali drew the crowds, charmed the media and stole the show. But while Ali is deservedly remembered as "The Greatest," it was Joe Frazier who defined what being a fighter was truly about. Frazier will always be linked in boxing history with Ali.
Frazier was once the heavyweight boxing champion of the world, and was the first man ever to defeat Muhammad Ali in the ring. Frazier rose from the most humble beginnings in Buford, South Carolina. He moved to Philadelphia and, before Rocky Balboa ever graced the silver screen, he was the name and face most associated with Philadelphia boxing. He nearly quit boxing in 1964 when he lost to Buster Mathis in the Olympic Trials and didn't make the U.S. team. But when Mathis broke a hand, Frazier went to Tokyo in his place and won a gold medal.
After winning 19 straight fights, in 1968, Frazier was matched with Buster Mathis for the NYSAC World Heavyweight title in Madison Square Garden. Mathis, as noted above, had beaten Frazier in the US Olympic trials and would have gone to Tokyo except for injury, was also unbeaten (23-0) and won the early rounds with some smart lateral movement. But Frazier kept pressing and smothering and eventually knocked Mathis out with a tremendous right-hand left-hook combination at the 2:33 mark of the 11th round to become the NYSAC world heavyweight champion.
However, After defending his NYSAC title 5 times, Frazier wanted a shot at Ali and the WBA and WBC World Titles. However Ali wasn't available, but his World Titles were.
Ali had fought his last bout on March 22nd, 1967. A Knockout victory over Zora Folley (74-7-4) at the Madison Square Garden in New York at 1:48 of round 2 to retain his WBA World heavyweight title. However, due to legal troubles, Ali was stripped of his titles and said he would not fight for the next three years. So he officially announced his retirement on February 2nd, 1970 to allow the winner of the upcoming Joe Frazier and Jimmy Ellis unification bout to be considered the undisputed champion. Frazier defeated Ellis (27-5) on February 16th, 1970 by 5th round TKO and took home the vacant WBC heavyweight title, the WBA World heavyweight title and the NYSAC World heavyweight title.
However Ali fought again with a TKO victory over Jerry Quarry in October of 1970, and another TKO victory over Oscar Natalio Bonavena in December of 1970 while Frazier defended his WBA and WBC titles with a TKO victory over Bob Foster (41-4) on November 18th, 1970.
During the 1970's, what must be considered the "Golden Age" of boxing during our lifetimes, an era where the heavyweight division boasted at least four bona-fide superstars: Frazier, Ali, George Foreman, and Ken Norton. While Ali was the center of the boxing universe, the other three all engaged in memorable battles with the self-proclaimed "Greatest" none more so than Frazier. He did it all through sheer will and perseverance. He fought in a classic bobbing-and-weaving style, working his way to the inside by attacking the body and then unleashing his money punch, the left hook. He paid a heavy price to get inside, particularly in his bouts against Ali, but Frazier was fearless.
The time was now right for Frazier and Ali to make history... For Frazier and Ali they had two of their three bouts noted as two of the greatest fights in boxing history.
Finally, in 1971 they were both guaranteed $2.5 million to fight each other as unbeaten heavyweight in what was to be called, the "Fight of the Century", where Frazier beat Ali in Madison Square Garden. Ali had nearly all of the physical advantages, but in the fight that remains the most significant in the sport's history, it was Frazier who threw perhaps the perfect left hook (Right) to knock down Ali in the 15th round, punctuating a victory on March 8th, 1971, in what will forever be remembered as "The Fight of the Century." Judge Artie Aidala scored it 9 rounds to 6, Judge Bill Recht had it 11 rounds to 4 and Judge Arthur Mercante scored it 8 rounds to 6, all in favor of Frazier who took the victory and the WBC and WBA Heavyweight Titles. Frazier spent nine days in the hospital after becoming the first man to defeat Ali, and he was never the same fighter again.
Frazier would defend the titles 2 times with TKO victories over Terry Daniels (28-4-1) and Ron Stander (23-1-1).
In January of 1973 when talks about a rematch with Ali, the number 1 contender, broke down over money Frazier signed up to face the number 2 contender, George Foreman at the National Stadium in Kingston, Jamaica. The result was a dent to his bank balance, he got a guaranteed $800,000, instead of fighting Ali for a guaranteed $3 million, and a much bigger hole to his reputation. Frazier, a 3-1 betting favorite, was bashed from pillar to post to boxing mat as he was put down six times before being stopped in the second round as he lost his titles to George Foreman by TKO at 2:26 in the round 2. Frazier was knocked down three times in the first and three times in the second.
After a 12 round victory in July of 1973 over Joe Bugner (43-5-1) at the Earls Court Arena in Kensington, London, United Kingdom, Frazier met Ali again a year after losing to Foreman in January of 1974 at the Madison Square Garden in New York. This time Frazier's outcome would not be the same as he lost to Ali by a 12 round decision for the NABF heavyweight title.
In 1975 Frazier made his Motown recording debut with First Round Knockout, written and produced by Van McCoy, an upbeat number in which he joyously remembered "One minute they were standing so tall/ The next second they began to fall ..." Music was Frazier's passion, and while his band The Knockouts never scored a number 1 hit, they did perform regularly on the Vegas strip.
With two more TKO wins over Jerry Quarry (49-6-4) and Jimmy Ellis (39-11-1) in October of 1975, Frazier and Ali were set to meet again at the Araneta Coliseum in Barangay Cubao, Quezon City, Metro Manila, Philippines for the WBC and WBA Heavyweight Titles in what would be the fight known as "The Thrilla in Manila." What some may not know about this bout was that the weigh-in was 5 days in advance of bout. As to why, we were never able to find out. In the end it would be Ali who would come away with the TKO victory. It was the third and most brutal fight in the Ali-Frazier trilogy. Both men slugged each other to the brink in the late morning heat until, with Frazier's eye closing and his body shutting down, his trainer Eddie Futch called the fight off at the end of the 14th round. "No, no, Eddie, ya can't do that to me," Frazier begged, rising off his stool. "You couldn't see in the last two rounds," said Futch. "What makes ya think ya gonna see in the 15th?" "I want him, boss," said Frazier. "Sit down, son," said Futch. "It's all over. No one will ever forget what you did here today." That was true enough, but for Frazier the pain and perceived dishonor of being pulled out lingered until his death. the fight was the 1975 Fight of the Year by Ring Magazine. Watch this great bout, the entire fight by clicking HERE.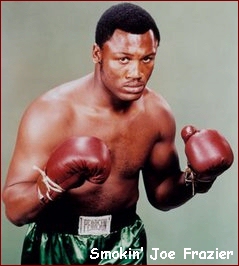 Larry Merchant, the one-time sports editor of the Philadelphia Daily News and now an HBO Sports boxing analyst, said, "There was nothing not to love about Joe Frazier and how hard he trained, how hard he fought and much he wanted to win, That 1971 fight is still the biggest and greatest event I ever covered and it exceeded all the extraordinary expectations that were placed upon it." That's what Joe Frazier was. He was a guy who exceeded expectations. He wasn't the fastest or the strongest or the most athletic, but there were few who were as fearless and few who gave as much of himself in pursuit of a victory.
His bouts with Ali were associated with a lot of negative pre-fight taunting of Frazier by Ali, calling him a "Gorilla" and an "Uncle Tom". Though Frazier was articulate and intelligent, the labeling of him as a "Gorilla" by the vocal, charismatic Ali led many to believe to the contrary. He felt betrayed because he tried to help Ali when Ali was stripped of the heavyweight title for refusing induction into military service. Ali was exiled for three years at the peak of his powers, from 1967 to 1970, and Frazier went to bat for him in order to help him get his license back. He went so far as to plead Ali's case with President Nixon. And because he felt he had done so much, he resented Ali's taunts during the promotion of their three great fights.
"Believe me when I tell you this, Ali respected Joe an awful lot," said Gene Kilroy, Ali's long-time friend and former business manager. "When they signed for that fight, they made so much money and everything was guaranteed. They didn't have to do a thing to promote it, because it wouldn't make a difference. But Ali never met a camera he didn't love and he began talking about Joe to anyone who would listen. I told Joe years later that Ali was just trying to sell the fight, but Joe said to me, 'How do you think I feel when he calls me an Uncle Tom? My kids come home from school and tell me the other kids told them their Dad's a gorilla.' Joe just couldn't get over it."
Frazier (and Foreman, who later gained fame as a Preacher and television salesman) became foils to Ali's intelligent persona. Not until after his retirement did the affable Frazier emerge. He re-emerged from boxing retirement as a lounge singer, appearing in venues and strutting his moves through a memorable Miller Lite commercial. He was an ambassador for the sport, along with Foreman, especially important at a time when Ali's Parkinson's Disease prevented him from being a voice for the sport's magical era.
Joe Frazier leaves behind a legacy befitting a heavyweight champion, memories of his defeat of Ali in 1971, of the brutal battle between the two in Manila, and of other memorable battles with George Foreman and others. At a time when boxing has been searching for men like Muhammad Ali and Joe Frazier, a time when 49-year old Evander Holyfield has indicated that he wants to return to the ring and face the Klitshko brothers, who apparently hold the current boxing belts (a fact known to at least 10 people, perhaps), the passing of Joe Frazier reverberates even stronger. Farewell, Smokin' Joe... You were one of the greatest.
RIP Smokin' Joe Frazier Tribute 1944 - 2011
CLICK HERE.
___________
Joe Frazier Tribute - The Final Farewell
CLICK HERE.
___________
Joe Frazier Tribute
CLICK HERE.
___________
R.I.P Joe Frazier: "No easy way out"
CLICK HERE.
___________
Smokin Joe Frazier - The Final Goodbye
CLICK HERE.
___________
Joe -Smokin Joe- Frazier Tribute by Larry Merchant
CLICK HERE.
___________
'Smokin' Joe" Joe Frazier Tribute - Nothing Is Impossible (R.I.P) Always Smoking!
CLICK HERE.
___________